Technical Advantages- Safety
Technical Advantages- Safety DMX512 color, speed and height adjustment at single point

Technical Advantages- Energy conservation
The adoption of an independently controlled submersible pump system instead of a high-voltage pump can save 75% of the electricity consumed. The operation and shutdown of each pump is controlled through a sequence and spout height control program, which consumes less electricity. In addition, this control mode reduces friction losses by reducing the total length of connecting pipelines and the distances between pumps and nozzles.

Technical Advantages- Simplification of Design and Construction
Through research & development, the company's patented pumps, LED lamps and nozzle are integrated into a dry fountain system (divided into two series, external drive and built-in drive).The pump and lamps share the low-voltage power supply and the DMX control communication line. The single-point DMX comprises 5 channels, 2 channels of which are used for the startup/shutdown and speed regulation of the pump, and the other 3 channels are used for the R, G and B color adjustment of RGB-LED lamps, thus saving the total length of power supply and communication cables of the LED lamps. The power supply and communication are connected via special IP68 quick-link connectors, which simplifies the installation and subsequent maintenance and replacement work.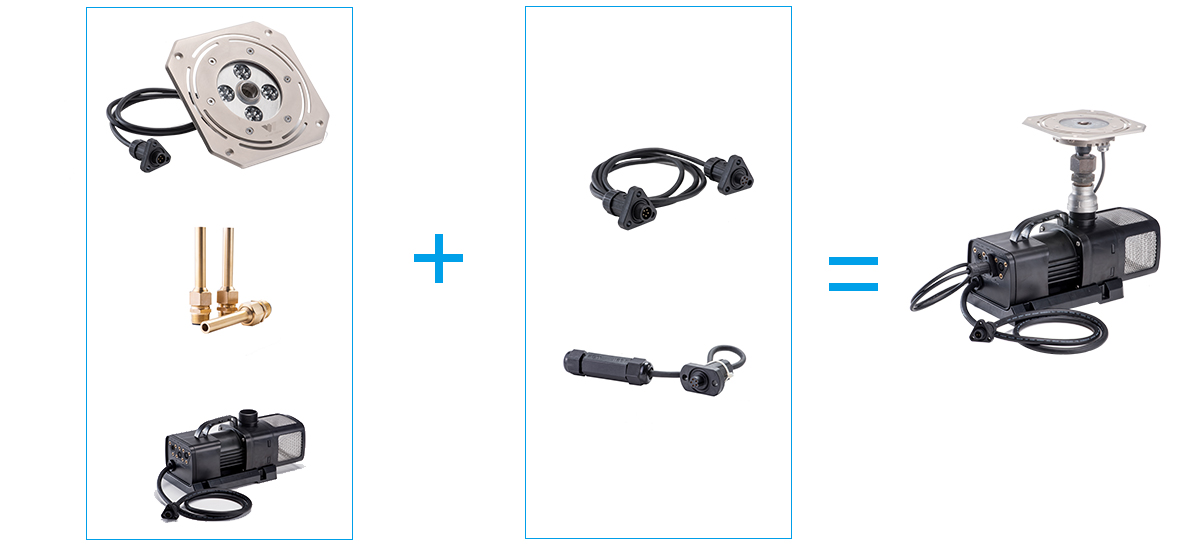 TTechnical Advantages- Space Saving
As dry fountains are usually designed for and applied in commercial plazas, and most commercial plazas are built above the roof of the basement, the depth of covering is limited and it is difficult to find a large space for installing part of the equipment. However, the self-regulating pump has a compact dimension, which requires small installation space (the required depth of the water pool is not more than 450mm) and can be installed in most of conventional plazas;
As dry fountains are usually designed for and applied in commercial plazas, and most commercial plazas are built above the roof of the basement, the depth of covering is limited and it is difficult to find a large space for installing part of the equipment. However, the self-regulating pump has a compact dimension, which requires small installation space (the required depth of the water pool is not more than 450mm) and can be installed in most of conventional plazas;